© Björn Pados | ZEISS Milvus 1.4/85
© Tracy Page | ZEISS Milvus 1.4/85
© Björn Pados | ZEISS Milvus 1.4/85
© Tracy Page | ZEISS Milvus 1.4/85
© Peter Grüner | ZEISS Milvus 1.4/85
ZEISS Milvus 1.4/85
The champion of bokeh.

center >
l sujeto destaca con una claridad asombrosa respecto al fondo, que desaparece magistralmente en el Bokeh suave de la composición de imagen. El enfoque manual altamente preciso del Milvus 1,4/85 de ZEISS permite al observador vivir hasta el último detalle.
El objetivo Milvus 1,4/85 de ZEISS rediseñado es especialmente indicado para la fotografía de retratos. Este objetivo es indispensable para aquellas composiciones donde el sujeto principal debe definirse con nitidez y destacar frente a un bonito fondo Bokeh. El diseño óptico puramente esférico y el uso de distintos tipos de cristal permiten un microcontraste óptimo y una aberración cromática extremadamente baja. El resultado: fotografías extraordinarias en cualquier momento – Con el campeón del Bokeh.






Excellent imagery, even in difficult light conditions
Outstanding stray light reduction is achieved by combining a number of optimally matched measures. In addition to the ZEISS T* coating, all lens edges are provided with a special pitch-black lacquer in a complex manual process. Light traps in mechanical components and specially designed surfaces are integrated to prevent the occurrence of reflections.

Future-proof solution for high-resolution camera systems
The excellent image performance of the ZEISS Milvus Lenses is sharply focused on the requirements of current and future high-performance digital cameras. Thanks to the low level of stray light allowed by the lens design, high-contrast images are also possible with increasing high dynamic ranges of the sensors (HDR). The optics are designed to ensure full utilization of the performance provided by high-resolution camera systems.

Creative still and video photography through precise, manual focusing
Manually focusing a lens means controlling and therefore actively composing an image gently and precisely from your fingertips. Here, a good ergonomic design makes all the difference. ZEISS Milvus Lenses feature a large rotation angle which enables pinpoint focusing. The silent, continuous aperture setting (de-click function with ZF.2 mount) and the long focusing range lay also optimal conditions for video photography.

Long-lasting product with protection against environmental influences
ZEISS Milvus Lenses will impress you not only due to their visual and haptic excellence, but also thanks to their inner qualities. Special seals for protection against dust and splashes expand the photographer's creative potential by guaranteeing the system's functional reliability even in environmentally difficult situations.

Stable image performance over the entire focusing range
The Floating Elements Design permits constantly high image performance in the focal plane – from the minimum object distance to infinity. This is accomplished by changing the axial distance between individual lens elements or element groups. The mechanical design of the ZEISS Milvus Lenses is highly complex and the workmanship must be extremely exact – both specialties of ZEISS.

| | |
| --- | --- |
| Longitud focal | 85 mm |
| Rango de apertura | f/1.4 – f/16 |
| Soporte de la cámara | Canon EF-Mount* (ZE) | Nikon F-Mount* (ZF.2) |
| Compatibilidad de formato | Full Frame |
| Rango de enfoque | 0,80 m (31.5") - ∞ |
| Distancia de trabajo libre | 0,65 m (25.6") - ∞ |
| Campo angular** (diag. | horiz. | vert.) | 29° | 24° | 16° |
| Diámetro del campo de la imagen | 43 mm (1.69") |
| Cobertura a corta distancia (MOD)** | 303 x 201 mm (11.93 x 7,91") |
| Relación de imagen con la distancia mínima al objeto | 1 : 8.3 |
| Número de elementos | grupos | 11 | 9 |
| Distancia focal de brida | ZE: 44 mm (1.73") | ZF.2: 46 mm (1.83") |
| Posición acromática de entrada (parte frontal del plano de imagen) | 46 mm (1.81") |
| | |
| --- | --- |
| Enfoque automático | – |
| Estabilización de la imagen | – |
| | |
| --- | --- |
| Rosca de filtro | M77 x 0.75 |
| Ángulo de giro del anillo de enfoque | 270° |
| Diámetro máx. | ZE: 90 mm (3.54") | ZF.2: 90 mm (3.54") |
| Diámetro del anillo de enfoque | ZE: 89 mm (3.49") | ZF.2: 89 mm (3.49") |
| Longitud (con tapas de lentes) | ZE: 121 mm (4.76") | ZF.2: 119 mm (4.69") |
| Longitud (sin tapas de lentes) | ZE: 113 mm (4.45") | ZF.2: 110 mm (4.33") |
| Peso | ZE: 1.280 g (45.15 oz) | ZF.2: 1.210 g (42.68 oz) |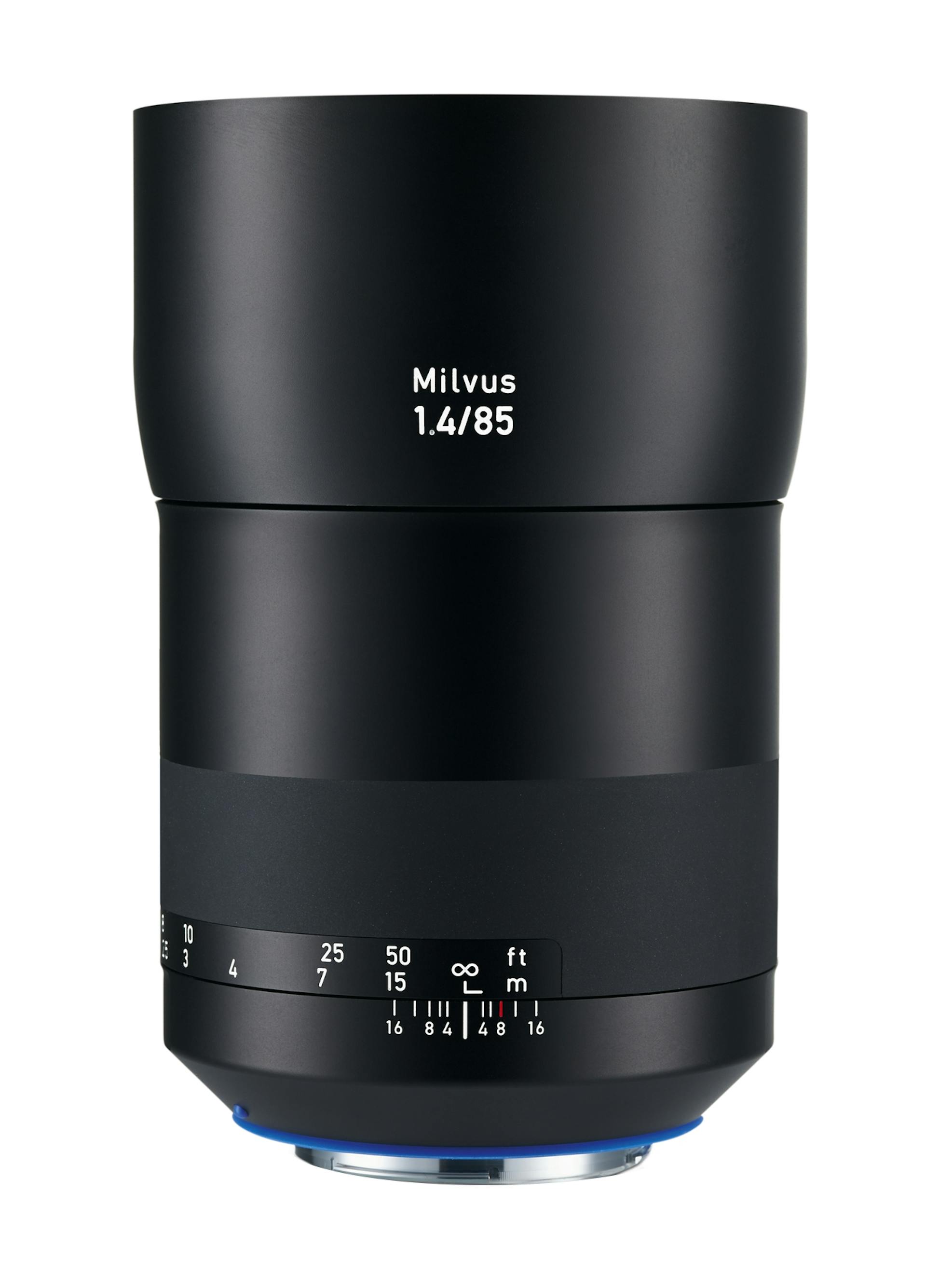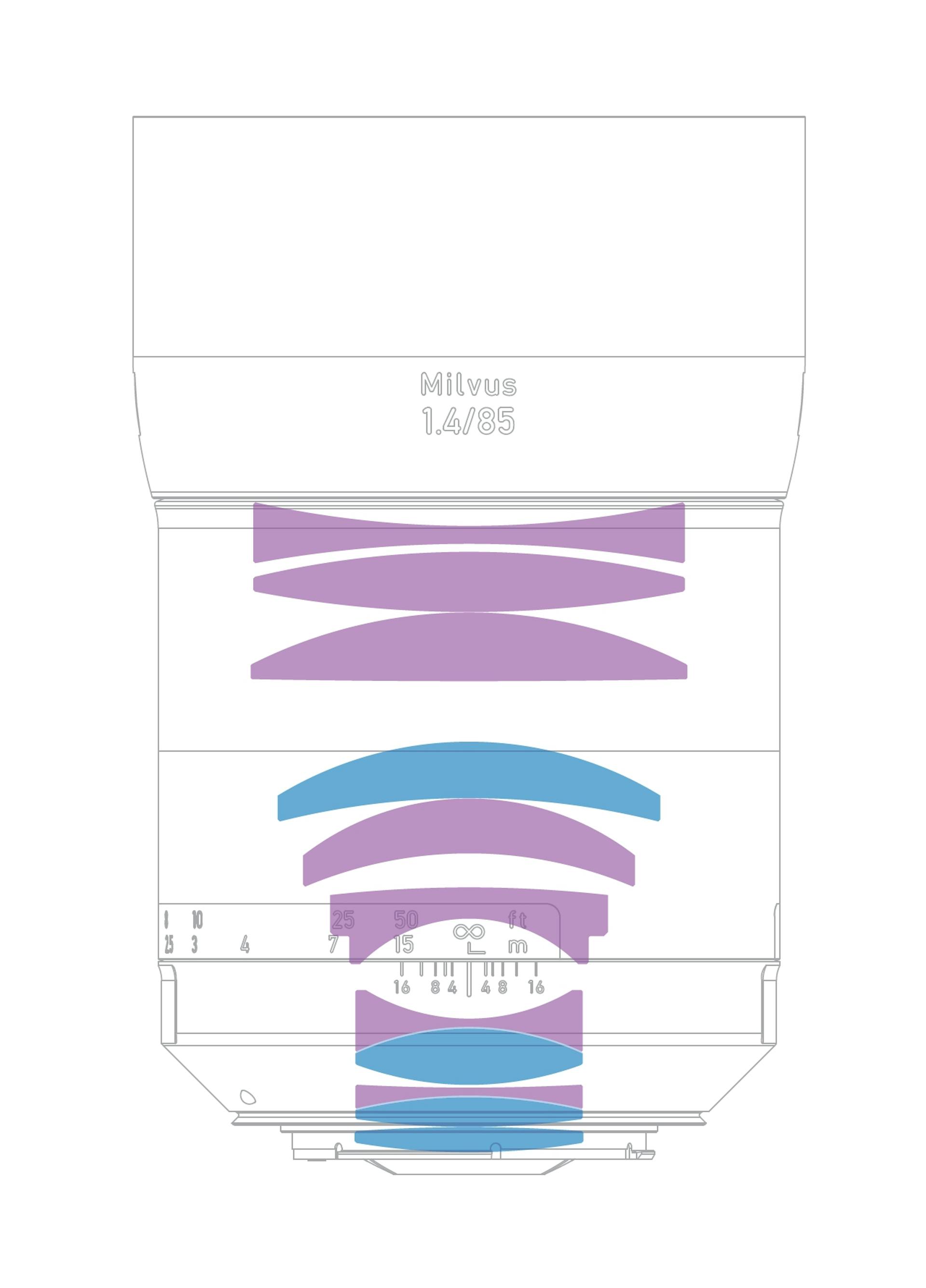 El del Planar es el diseño de objetivo más exitoso de la historia y, por lo tanto, el más copiado. Las modificaciones que se han incorporado al tipo básico de seis lentes, de eficacia ya demostrada, permiten alcanzar la alta calidad de imagen que requieren los sensores modernos. Los objetivos con diseño óptico Planar ofrecen un rendimiento muy constante en un amplio abanico de ratios de imagen, el requisito clave para los macro-objetivos universales.


Diseño Planar

Objetivo fabricado con vidrios ópticos especiales con dispersión parcial anómala

Diseño con "elementos flotantes"
pcmag.com
"The Zeiss Milvus 1.4/85 ($1,799) is an updated take on the Planar T* 1,4/85..."
pcmag.com
Accesorios
A la medida de sus requisitos.
Al realizar fotografías, lo importante no es solo la imagen óptima. También es vital capturar una experiencia especial. Con sus fiables funciones, los objetivos de cámara de ZEISS garantizan que los fotógrafos puedan concentrarse en la imagen y la composición y que den rienda suelta a su creatividad. Para que la experiencia sea perfecta, ZEISS ofrece ahora accesorios a la medida de los requisitos de los fotógrafos más exigentes.

Obtenga la garantía ampliada
Registro de producto
ZEISS ofrece un período de garantía de dos años a partir de la fecha de compra de todos los objetivos fotográficos. Se puede ampliar hasta a tres años registrándose con el proceso de registro online de ZEISS. Aunque la garantía ampliada de ZEISS ya está disponible en numerosos países, las reclamaciones de garantía solo se pueden realizar en el país en el que se adquirió el producto.


Búsqueda de distribuidor
Introduce tu dirección para encontrar a un distribuidor cercano: